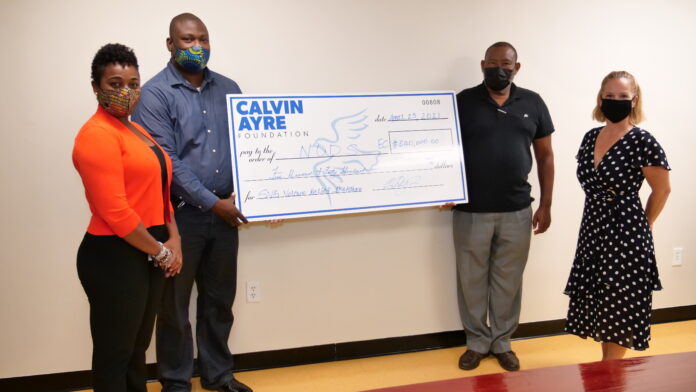 This post originally appeared on https://antiguanewsroom.com/, and we republished with permission.
The Calvin Ayre Foundation (CAF), through the National Office of Disaster Services (NODS), has made a financial commitment of EC$540,000 (US$200,000) to assist residents of St. Vincent and the Grenadines, who are currently being affected by the La Soufriere volcanic eruption.
The announcement was made during a brief presentation with Director, Philmore Mullin at his office at NODS.
According to CAF's Executive Director, Corinna Delowsky, after an extensive review of the situation, the Foundation could not deny that this was of utmost importance and contacted NODS to determine how it could assist.
"Now, more than ever," she said, "we have to be our brother's keeper. So, on behalf of CAF and Ambassador Calvin Ayre, we're proud to assist by donating this check."
"One of our Pillars of Giving, at the Calvin Ayre Foundation is Emergency Response which we've been doing since the beginning of this pandemic," said Jamilla Kirwan, Ayre Group's Media Relations Specialist.
"And, while we know that the pandemic is still very real here in Antigua and Barbuda, we think it is incumbent upon us to help our brothers and sisters in St. Vincent and the Grenadines in their time of need."
Mullin expressed his gratitude on behalf NODS and the Government of Antigua and Barbuda, for what he considers a timely donation.
"I want to use this opportunity to thank the Calvin Ayre Foundation for this very timely donation to assist the people of St. Vincent and the Grenadines, in a very special way. They are now going through some challenges, which will probably continue for some time and so it would be nice if other good corporate citizens can come forward and make some more donations to assist them. Antigua and Barbuda," he said, "will continue to do what it can to assist for as long as we can until they get back on their feet."
According to Mullin, the donation will assist NODS in procuring essential items from a volcano relief Needs List, which will include general needs, such as hygiene products and medical equipment; such as defibrillators, cardiac monitors, wheelchairs, portable oxygen cylinders, air purifiers and respirator masks. Other sectors of need include health, structural and agriculture.