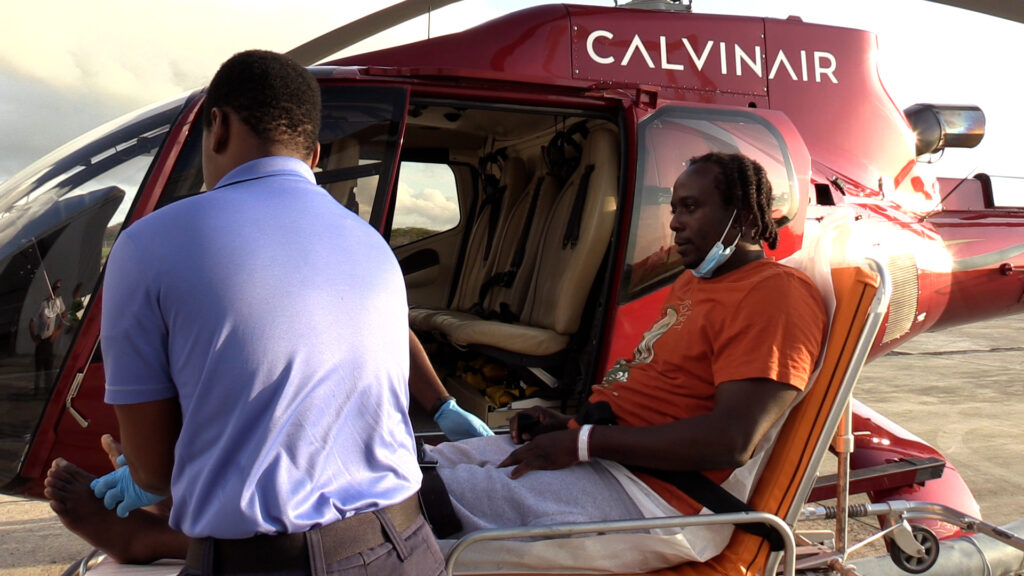 This was initially published at Antigua Observer.
St. John's, Antigua: Monday, April 24th, 2023: Ruan Roberts, the Urlings fisherman who was recently medically airlifted to Guadeloupe by CalvinAir Helicopters has returned home. CalvinAir Helicopters picked up the patient, who had undergone treatment for decompression sickness at the University Hospital of Guadeloupe, late Saturday afternoon, right after he had completed the last round of treatment.
St. Mary's South MP, Hon. Kelvin Simon, who had initially contacted the Foundation on Ruan's behalf, again reached out over the weekend, to request the Foundation's assistance in getting Ruan back home to begin immediate rehabilitation treatment. Ruan's case was also given special consideration, since there was no available return flight to Antigua before May 1st, and remaining in the facility until then would result in hefty hospital fees.
Although still experiencing fatigue in his limbs, Ruan is glad to be back home and expressed his gratitude to the Calvin Ayre Foundation and CalvinAir Helicopters, for their swift intervention in his medical emergency.
Member of Parliament for St. Mary's South, Hon. Kelvin Simon, said he has since been in contact with his constituent and confirmed that he has already begun his rehabilitation and is on the road to recovery. The MP again thanked the Foundation for its critical emergency response service.
"We know it's costly and people don't always have the funds available for these types of emergency situations, so having a reliable Foundation that we can call on in times of emergency is a really good thing," the MP said.
Calvin Ayre Foundation's Media Relations Specialist, Jamilla Kirwan wishes Ruan a speedy recovery and says that CAF will continue to play its role in the twin-island nation as mandated by Ambassador Calvin Ayre, in the areas of Medical Emergency, Education and Sports, and Social Development.