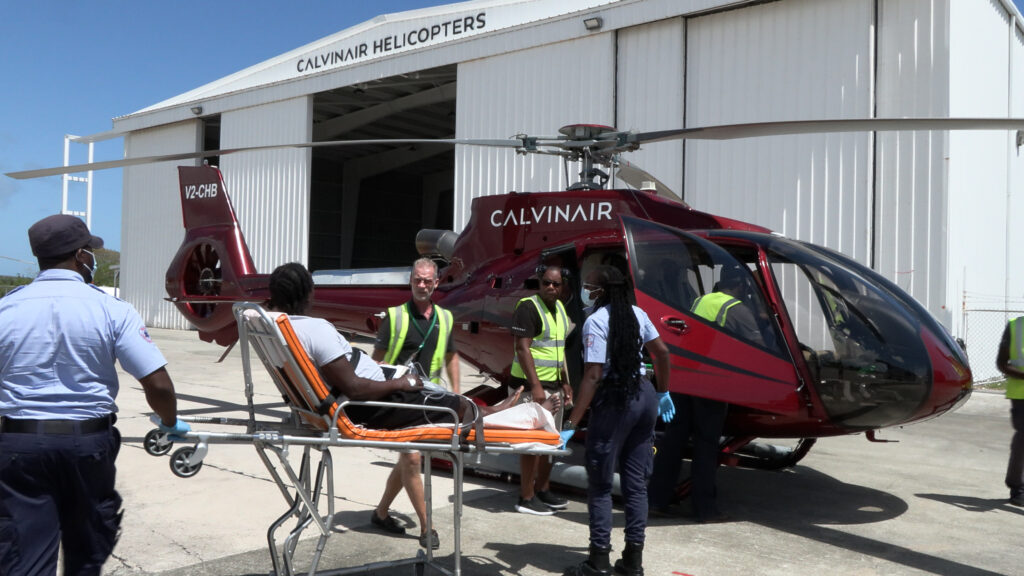 This was initially published at Antigua Observer and Antigua News Room.
After performing the emergency medical evacuation of an Old Road resident, just over a month ago, CalvinAir Helicopters was once again taking the exact half-hour flight route to Guadeloupe for the same purpose. On this occasion, the patient on board was 32-year-old Ruan Roberts, a local entrepreneur and fisherman from Urlings, who was diagnosed with acute decompression sickness by doctors at the Sir Lester Bird Medical Centre (SLBMC).
The distress call was made to Calvin Ayre Foundation's Jamilla Kirwan on Robert's behalf by St. Mary's South MP, Hon. Kelvin Simon, who provided Kirwan with Roberts' contact information. Upon reaching out to him, Kirwan learned that Roberts had been admitted to the hospital over the weekend, complaining of pain and numbness in his legs. It was also discovered that he had gone diving and, upon returning to the surface, began experiencing lightheadedness and lower extremity weakness, which made him unable to walk.
To add to the already dire situation, Roberts discovered that his passport required for admittance into Guadeloupe had expired. Thankfully, with the swift intervention from the Ministry of Foreign Affairs, the Minister, Hon. Chet Greene, Department of Immigration and the Passport Office, Roberts' case was fast-tracked in order to make the 10:30 am departure via CalvinAir Helicopters on Monday.
Kirwan said, that although CalvinAir Helicopters executed the Medevac, it was the swift action taken by all the various agencies that assisted in making Roberts' medical evacuation possible.
Member of Parliament for St. Mary's South, Hon. Kelvin Simon, said that he is aware of the urgency required in getting treated for this kind of illness and is extremely happy Roberts – or "T" as he is fondly called among residents of the south – was able to be evacuated so quickly. "This could have resulted in paralysis or, God forbid, death," he added. "I wish him a speedy recovery and I also wish to extend very special thanks to CalvinAir Helicopters and the Calvin Ayre Foundation for such swift action."
In the meantime, Kirwan has since been in touch with Skeeter Pelle – wife of Clive Pelle who was Medevac'd in early March of this year. Skeeter informed the Foundation's representative that, while Clive was still not a hundred percent, he was doing much better.
Kirwan wishes Ruan Roberts a speedy recovery and extends continued healing to Clive Pelle on behalf of the Calvin Ayre Foundation and the Ayre Group.