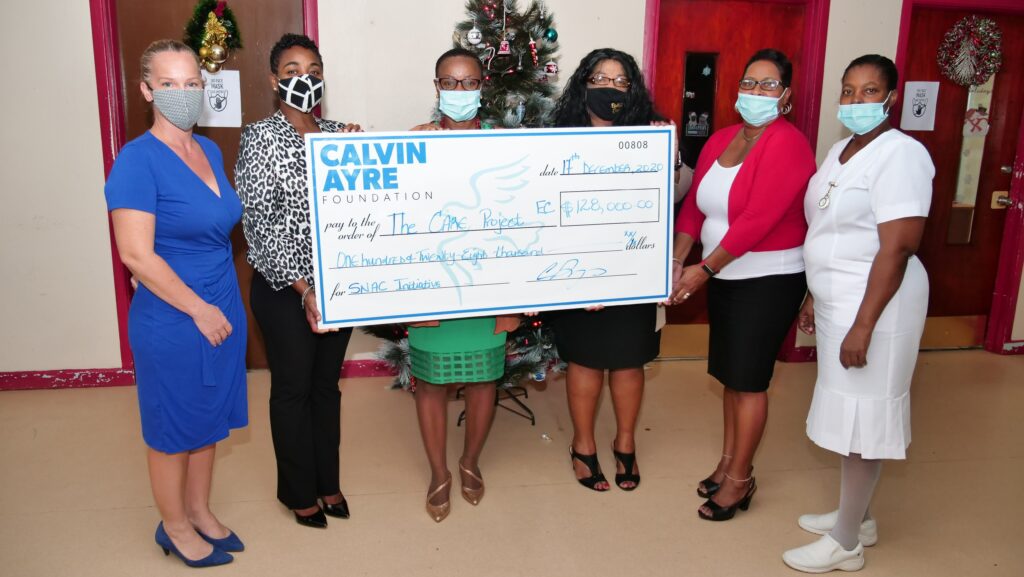 St. John's, Antigua: Tuesday, December 22, 2020: Representatives of the Calvin Ayre Foundation (CAF) spent their time last week not only spreading Christmas cheer to the most vulnerable in our community, but also pledging the Foundation's continued financial support to two organizations – the Friends Foundation and the Care Project – that provide care for the differently-abled.
For the past three years, The CAF has been partnering with The Friends Foundation, a privately-managed, non-profit outreach organization, which has been integral in providing assistance free of charge, to the residents of the Government-run Care Project and the local community. The funding by The CAF facilitates free services in the areas of physiotherapy, speech therapy, sensory stimulation activities, staff-assisted feeding, education, and also assists with employing the Friends Foundation's 16-member staff.
According to CAF's Executive Director, Corinna Delowsky, due to unexpected expenses caused by Covid-19, The CAF took the decision to increase the annual donation to the Friends Foundation by over 20%, for 2021.
President of the Friends Foundation, Annette Carey was also grateful that throughout the pandemic, The CAF's funding enabled her organization to provide new services such as virtual homeschooling.
"For the past three years, Ambassador Calvin Ayre has kept his faith is us," she said. "Without his Foundation's support, I doubt the charity would have survived."
At separate Christmas events held on December 16th, the students and residents of both the Friends' Foundation and the Care Project, were treated to sensory-appropriate gifts and a meet-and-greet with the CAF's very own Santa Claus, who took great pleasure in handing out presents. The events brought much joy and laughter.
The CAF also recently established a complementary food assistance initiative for residents of the Care Project, fittingly called, Supplemental Nutrition at the Care (SNA-C). On hand to receive the donation on December 17, were Matron Ashline Francis and Senior Office Administrator, Sandy Daniel, both of the Care Project, as well as Permanent Secretary within the Ministry of Health, Ena Henry.
The EC$128,000 financial commitment, will go towards providing free meals that will be tailored to the dietary needs and restrictions of the special needs residents for one year.
Matron Ashline Francis said that during the hardship brought on by COVID-19 and the economic downturn, the Care Project had been experiencing limited charitable donations but the CAF has chosen take a different response; "they are coming bigger and better," she said.
PS Ena Henry, speaking on behalf of the Ministry of Health and the Minister of Health, Sir the Hon. Molwyn Joseph, extended heartfelt gratitude and expressed that the supplemental feeding donation will go a long way in ensuring that the special feeding needs of the residents of The Care Project are met.
To this sentiment, Delowsky added, "This year has been a difficult year and unfortunately many corporate citizens have been pulling back. But our philosophy at The CAF is that we really need to step up in this time and we encourage other corporate citizens to do the same."