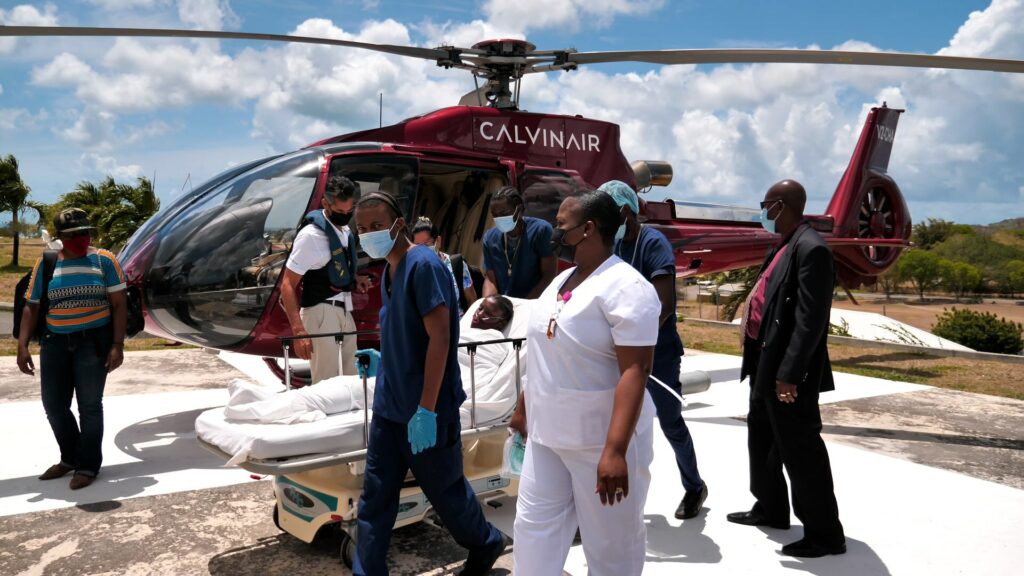 St. John's, Antigua: Friday, June 4, 2021: A Barbudan teen is now doing much better, after experiencing a medical emergency on the sister isle on Thursday, June 3. Fourteen year-old Patrice Jeffrey and her mom, Ionie Jeffrey, spent a tiring 24-hours at the Hanna Thomas Hospital, where the teen's condition was considered serious enough for Head Resident Doctor, Dr. Jeremy Deazel, to recommend that she be medevac'd to the Mt. St. John's Medical Centre.
Ayre Group Media Relations Specialist, Jamilla Kirwan, said she received the urgent call on Thursday morning from the girl's frantic aunt, Makeda Philip, whose own toddler Miracle Charles, had also been airlifted to MSJMC in April, after experiencing febrile seizures.
"When I saw Makeda's number, I immediately thought perhaps Miracle was in distress again," Kirwan said. "So I answered the call quickly." However, Kirwan learned that this time, it was Makeda's niece Patrice, who had ironically been present during the infant's ordeal in April. After listening to Makeda's distress call regarding her niece's medical challenge, which she said included a fever and severe chest pains, Kirwan promptly alerted the company's helicopter pilots.
"This case needed to be transported to MSJMC," said Head of Hanna Thomas' medical team, Dr. Jeremy Deazel, who coordinated the teen's arrival with his colleagues in Antigua. "Our usual travel arrangements had some difficulties and CalvinAir stepped in and offered their service. The patient was successfully transported directly to the hospital to seek further treatment."
A further update on Friday, by Philip confirmed that among other tests, a chest x-ray revealed infection in her niece's lungs. "She is receiving medication now and is feeling much better. My family is very thankful again for your help," a grateful Philip concluded.
According to Dr. Deazel, it has always been challenging to medevac patients from Barbuda to Antigua, especially in certain conditions and particularly at night.
"I would like to take this opportunity to thank CalvinAir Helicopters for their support and hope this kind service will be provided continuously in the future. We appreciate it."
"This is the fourth medical emergency CalvinAir has provided since commencing operation in November of 2020," Kirwan confirmed. "In addition to this case, a few days ago, CalvinAir medevac'd a 57 year-old heart attack victim on Friday, May 28."
According to Kirwan, the company has pledged its support to medical emergency airlift and search and rescue, which will be paid for by the Calvin Ayre Foundation.
For more information, contact CAH at contact@calvinair.com.