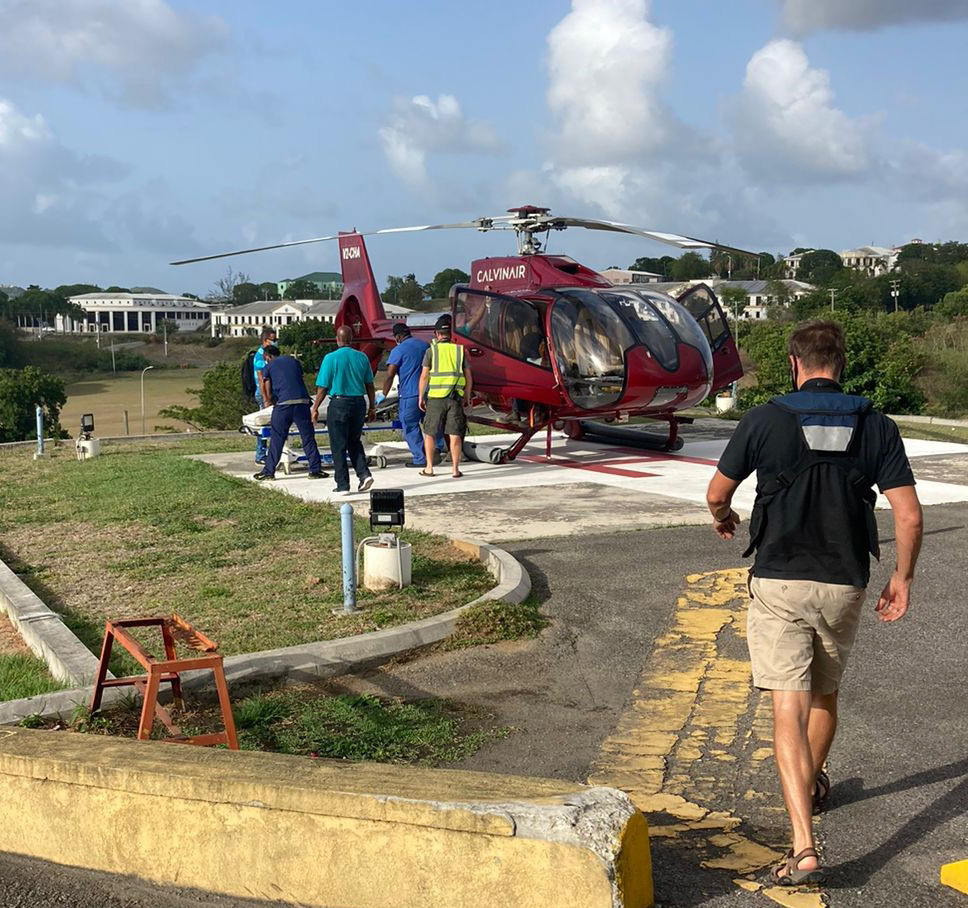 St. John's, Antigua: Tuesday, July 20, 2021: A 41 year-old Codrington man, who was medevac'd by CalvinAir Helicopters (CAH) after developing serious medical complications, is recovering well at the Sir Lester Bird Mount St John's Medical Centre (SLBMSJMC).
The distressed patient was airlifted on Sunday 18, after doctors on the sister isle concluded that his condition would require emergency surgery.
"The patient was in such excruciating pain that he literally screamed throughout the entire flight," a sympathetic Mark Fleming, CAH General Manager and Chief Pilot, said. "We are relieved to learn today that his surgery was successful and he is on the road to recovery."
"I would like to take the opportunity to thank CalvinAir Helicopters yet again, for stepping in and offering their tremendous medevac service," said Dr. Jeremy Deazle, Head Resident Doctor at the Hanna Thomas Hospital in Barbuda. "The emergency case on Sunday 18, required immediate surgical attention and CalvinAir Helicopters was able to step in and evacuate the patient successfully to Mt. St. John. That patient has undergone the surgical procedure already and it was successful. He is recovering and doing well at MSJMC and will be discharged anytime soon."
According to Dr. Deazle, the hospital normally utilizes the services of two airlines to medevac its cases. However, those airlines may be unavailable at times, as they may be providing commercial service to nearby Caribbean islands.
"CalvinAir Helicopters has always been a phone call away and we really appreciate the kind gesture," Dr. Deazle continued. "We are grateful that everything worked out so well."
Barbuda Council Secretary, Paul Nedd, who had made the urgent call to CAH, also echoed Dr. Deazle's sentiment and expressed his thanks to the helicopter company for providing such a valuable and potentially life-saving service.
"CalvinAir Helicopters has never turned us down," he said. "And for that, we are truly grateful."
Jamilla Kirwan, Ayre Group Media Relations Specialist said, "On behalf of the entire Ayre Group, we would like to wish a speedy recovery to the patient. Through our commercial operations and our charity arm, the Calvin Ayre Foundation," she continued, "our Group intends to continue playing our role as good corporate citizens in whatever way possible."
According to Kirwan, although CAH operates a commercial business, the decision to contribute flight time free-of-cost to emergency airlift was made by Chairman of the Ayre Group, Ambassador Calvin Ayre, under the mandate of giving back to the twin-island nation.
"The emergency flights," she said, "which would commercially cost US$2,000 (ECD$5,400) are paid for by the Calvin Ayre Foundation (CAF). The Foundation also covers the cost for any search and rescue operations."
To date, this is the fifth medical emergency CalvinAir Helicopters has provided since commencing operation in November, 2020.
For more information, contact CAH at contact@calvinair.com.