The Calvin Ayre Foundation was proud to offer the Antigua & Barbuda Bulldogs basketball team an easy layup by sponsoring the team's trip to the FIBA AmeriCup 2021 Caribbean Pre-Qualifier in Suriname.
The Bulldogs' last appearance in a FIBA tournament was at the 2015 Men's Caribbean Basketball Confederation Championships at Tortola in 2015, when they finished with a respectable but ultimately unsatisfying bronze medal, leaving them hungry for more.
On June 19, the team left for Suriname. That same day, Antigua & Barbuda's Minister of Sports, Culture, National Festivals and the Arts​ Daryll Matthew welcomed Calvin Ayre to the Ministry, where he presented a check from the Calvin Ayre Foundation to Carlton Brodie, President of the Antigua & Barbuda Basketball Association (ABBA).
As a longtime Antigua resident and a lifelong sports fan, Calvin Ayre recognizes the role that sports can play in the community, especially for local youth. "It is our corporate responsibility as business owners in Antigua & Barbuda to support sports organizations like ABBA, said Ayre.
The Bulldogs clearly felt the strong support of their community when they got to Suriname. On June 24, the Bulldogs easily overcame their first opponent Bermuda by a score of 91-78. The next two days saw the Bulldogs defeat Montserrat (87-66) and Barbados (62-55). That left just Haiti on the Bulldogs' opening round schedule before the semi-finals get underway on the 29th. Go Bulldogs!
In October 2018, Calvin Ayre Foundation received a special honour from Antigua and Barbuda Basketball Association (ABBA) during its annual awards and prize-giving ceremony held at Sir Vivian Richard's Stadium for the foundation's contribution to the Men's Senior National Basketball Team.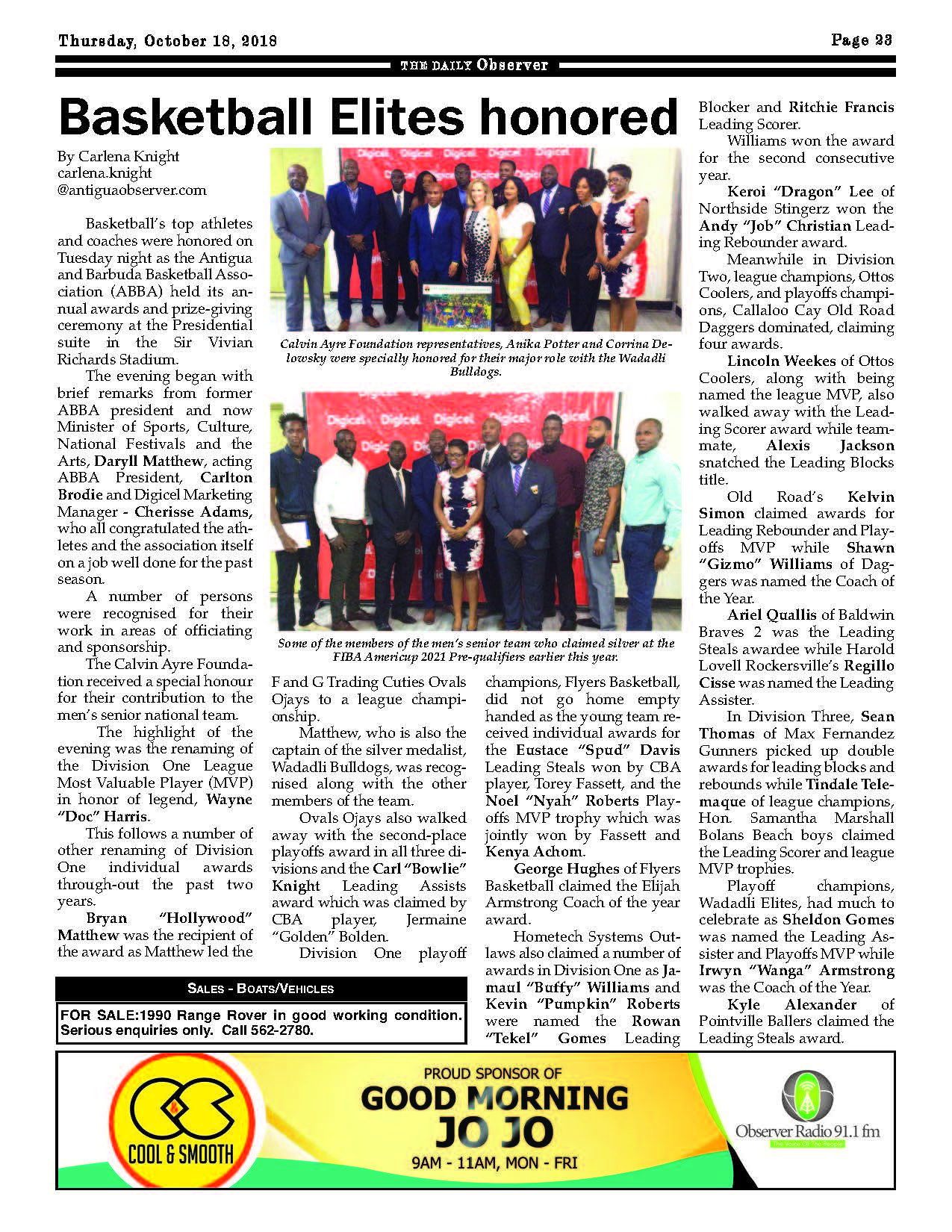 The event as featured on Antiguan Observer published on October 18, 2017